Key findings
Half of Australian children have participated in less organised sport and other physical activities since the COVID-19 pandemic as parents say that costs, the risk of catching COVID-19, and frequent disruptions are their leading concerns about returning.
The latest results from the RCH National Child Health Poll show that the majority of Australian parents (59%) believe that their child's participation in organised sport or other physical activity is just as important, if not more important (37%) to their children's health and wellbeing than it was before the pandemic.
Dr Anthea Rhodes, Paediatrician and Poll Director, said: "As a parent and a paediatrician, the reduction in participation by Australian children in organised community sport and physical activities is concerning."
"Organised community sport and physical activities play an important role in promoting positive social and emotional health, and of course, improve our physical health —so there are many reasons why we should encourage our children and young people to get back to participating in these activities," Dr Rhodes said.
"The mental health impact on children and young people throughout the pandemic has been well documented, including the feelings of loneliness and isolation associated with lockdowns. Aside from the physical benefits, community sport and physical activities are vital in providing children and young people with the opportunity for connectedness, interaction, and support, giving them the ability to develop friendships outside of school and the home."
Most Australian parents (59%) recognise the importance of organised sport and physical activities for their child's wellbeing. However, the cost related to engaging in organised sport and physical activities was the leading concern, with 58 per cent of parents saying the registration, fees, sports clothes, or equipment are too expensive.
"Our Poll findings show that many parents understand the value of organised community sport and other physical activities but may need support to address barriers to participation," said Dr Rhodes.
Given the well-established physical and mental health benefits of community sport and physical activities, reengagement of children and young people in these activities should be an urgent priority as restrictions ease across Australia.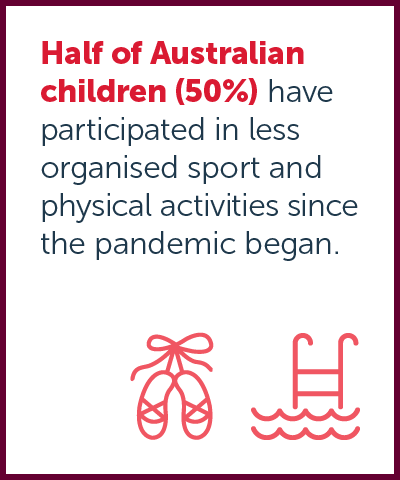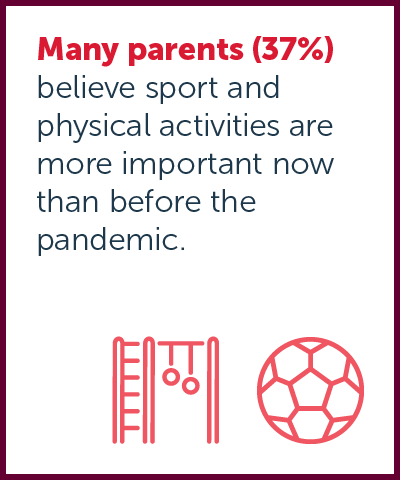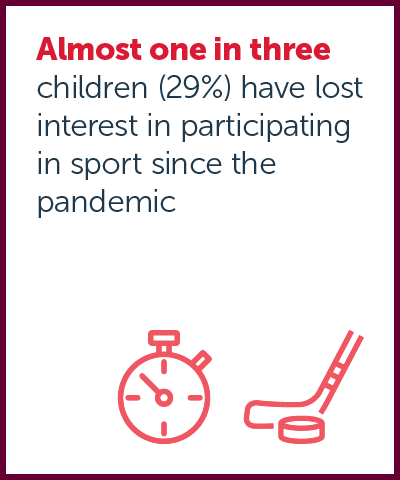 In the news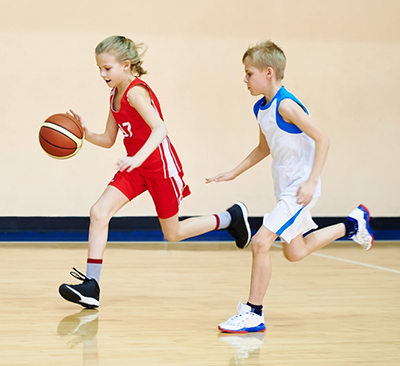 Information for parents
Tips for parents
If your child has lost motivation to return to sport, especially due to the frequent disruptions brought on by lockdowns, have a chat with them about how they are feeling and remind them of the things they enjoy about sport and physical activities. Healthy habits are hard to make and easy to break. The earlier you can get back into a routine with sport and physical activity, the easier it will be.
Ask to see your sporting club's COVID-safe plan and follow the Department of Health's steps to stay safe in sport.
If your child is worried about not being fit enough to return to sport or other physical activities, help them practise at home or with a friend first. Setting small reachable targets can build their confidence to return.
Families concerned about the cost of returning to sport can reach out to their local council or sporting club to learn about available support, including the possibility of payment plans for registration and equipment. Government vouchers are available for eligible families in some states and territories.
It may be hard to squeeze sport or other physical activities into a child's already busy schedule. Joining the same sporting club as your child's friends is a great solution for your child to participate in sport and social activity at the same time. You can also use your child's sport and physical activities as a set break from homework or screen time.
Your local school or council is a great resource for finding local sporting clubs if your child is looking to join a new team or try a new sport.
General resources
Financial resources
COVID-19 resources